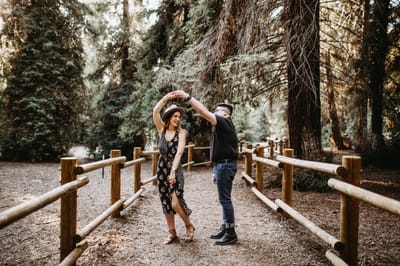 Square dancing is done to the same calls in English throughout the world. Our members tell stories of dancing in Australia, New Zealand, Canada, Europe, Japan, China and elsewhere.

The Callerlab organization periodically will update and change the dance programs that have helped to standardize Square Dancing around the world. In an effort to focus more on danceability and accessibility for a new dancer, the Social Square Dance Program was developed in recent years.

In this program, a specific set of calls has been selected that will allow a new dancer to go from "never danced before" to "Saturday Night Dances, Here I Come!" within about 13 weeks of instruction. Further, in editing the call list to focus on body flow, actual dancing, and fun, we have seen successful completion of this program by new dancers in many areas that has created a revitalizing of our activity - one that is more welcoming and friendly to new dancers.

In the Greater Los Angeles Community, as well as Orange County and Ventura County, several clubs have chosen to switch over to Social Square Dancing.

We do note that right as these changes were starting to take place, the Covid-19 interruption in all Square Dance Activities happened - which has resulted in a slight staggering over this transition.

The Ribbons & Souls is just getting our Club Members back to dancing as of November 2021. We are delighted that we will begin our first Social Square Dance Class in January 2022. By April 2022, we will be hosting regular Social Square Dance Dances and we look forward to visitations to and from other clubs in the area who are also beginning classes in January 2022.

All classes are conducted on Wednesday evenings as described below. The first class is free for any new dancer!! After that, a donation of $10 per person is requested.

Social Square Dancing (SSD)
This class is conducted from 7:00 to 8:45 pm. Upon completion, students will be able to participate in SSD Dances held on the 2nd and 4th Saturday of the month.

WHEN?
Classes normally begin on the second Wednesday of every January, May, and September. However, we will be starting our first New Dancer Class on January 5, 2022. During the first two weeks of the class, the same material is taught.

WHERE?
Veterans Memorial Center, 4117 Overland Ave, Culver City, CA 90230. This is located at the corner of Overland and Culver Blvd. We will be in Multi-Purpose Room. The parking lot is accessible from Culver Blvd.

Please note: Square dancing is fun, but does take some commitment. Those with competing events on Wednesday nights, should not join. Okay to miss one from time to time, but we learn new calls nearly every week.